What is Hydrogen Water?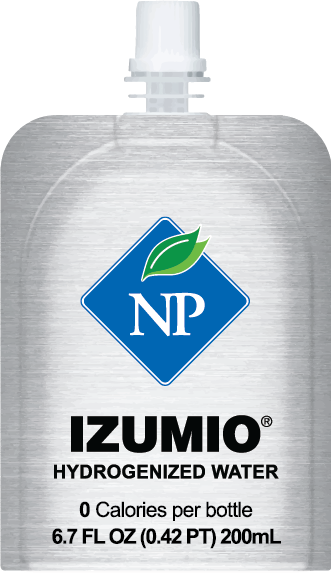 Hydrogen water is not simple water such as tap water.
Hydrogen water is water that contains hydrogen at a high concentration.
Water in itself has no effects but is the high concentration of hydrogen in the water that is effective.
The extra hydrogen gas is added to the water through the deaeration and membrane dissolution process. The deaeration process refers to the process where oxygen is removed from the water. Membrane dissolution is where hydrogen is injected into the water. While regular water does have hydrogen, it is at a low concentration amount.
What are the Benefits of Hydrogen Water?
According to Dr. Shigeo Ohta's article in Nature Medicine in 2007, one of the first articles in the academic world discussing the benefits of hydrogen and its effects on mammals, "hydrogen is effective for an extremely wide range of issues." His initial research focused on studying hydrogen's antioxidative effects and has since then published 300 more articles on the matter. He discovered that hydrogen has the added ability to do the following: inhibit inflammation and allergies, stimulate energy metabolism, and reduce the rate of cell death. While hydrogen has antioxidative effects, their research also found that its antioxidative benefits continue even after the hydrogen has dissipated from the body.
In Dr. Ohta's research, he has found hydrogen water has therapeutic and preventative effects. He notes that it is not only for those who have ailments but it is also beneficial for those who are healthy. It can help reduce muscle fatigue for athletes and reduce fatigue from the stresses of daily life. Hydrogen has shown that it will directly reduce and remove bad reactive oxygen species that have strong oxidative activity and destructive power in our bodies. Since hydrogen is the smallest molecule known to man, it allows the hydrogen to pass through our cell membranes and diffuse throughout the cell.
"I'd had problems with my hips and my hand. I'd tried lots of different things but nothing had worked. After I tried IZUMIO, I noticed that I felt better." – Patricia Christopher, Seattle Member
One of the most prominent features of hydrogen water is that it improves the part(s) of the body that are weakened. Each of our bodies is different and hydrogen water can improve the weakened part of our individual bodies with its reactive oxygen species.
Furthermore, the health benefits of hydrogen have been published in the American Journal of Food and Nutrition, and the International Journal of Clinical Medicine.
Why IZUMIO?
While there are many hydrogen tablets and sticks available to the market, their hydrogen molecules can easily dissipate when consumed through glass containers or plastic packaging. IZUMIO is packaged in a BPA-free four-layer aluminum packaging that prevents foreign particles from entering the package, and more importantly, keeps the hydrogen from escaping. Since IZUMIO is packaged to drink as-is, there is no need for any additional steps before consumption which makes it very convenient to quench your thirst with nature's antioxidant.
"The hydrogen that's being delivered in this environment, in the water, it's not something we've had access to before in the U.S. I give IZUMIO to my children. My son is putting it on his skin, and you can see the difference." – Suzannah Bianco, Las Vegas Member
IZUMIO also has one of the highest concentrations of hydrogen at 2.6ppm at the filling point. IZUMIO is considered laboratory-grade by researchers such as Sierra Productions Research to conduct continuing research on the health benefits of hydrogen water.